Easter is fast approaching and is one of the most popular opportunities for families to spend their holidays in either the Mediterranean or the Caribbean. Many people may choose to spend their time in the Mediterranean but the Caribbean has so much to offer, including amazing weather and beaches, as well as the best sailing waters in the world. Why not wait till after the very popular spring break and all the crowds to see the Caribbean in all its beauty.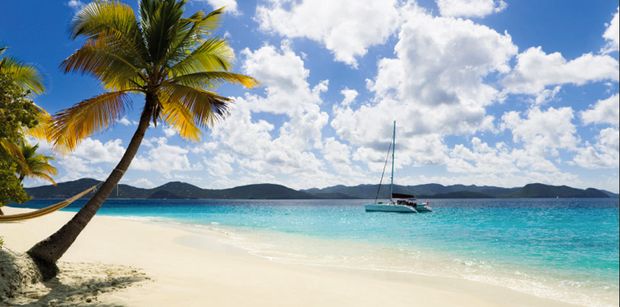 Depending on your island of choice, the weather is likely to be between the high eighties during the day to the seventies in the evening. The climate is extremely mild and you will have long sunny days and great winds, perfect for sailing and relaxing on the bow deck. April in the Caribbean brings many festivities and celebrations, including Carnival, boat races, sporting events and much more. The natural beauty of the BVI makes this one of the most popular destinations in the world.
Why not use this opportunity to get your whole family together or a few of your closest friends and charter one of our large crewed catamarans. We highly recommend KINGS RANSOM, a 76ft Silhouette luxury catamaran, which has the ability to accommodate up to 12 guests in 6 cabins. She features spacious living and sleeping areas, as well as beautiful fixtures and fittings. Her decks are second to none and together with her crew make this luxury crewed catamaran a real winner.
At www.boatbookings.com, we are here to help you plan your perfect luxury yachting holiday. We have a team of highly skilled professionals who are extremely knowledgeable in their destinations and will be able to help you bring together the yacht, the crew and all the other aspects that make your charter special.
Watch this space for the latest industry show releases, news and gossip in the yachting world. If you liked the content on this page and our previous posts, please become a fan and like our Facebook page to receive up to date information on our publications. Follow us on Twitter and Google Plus too.