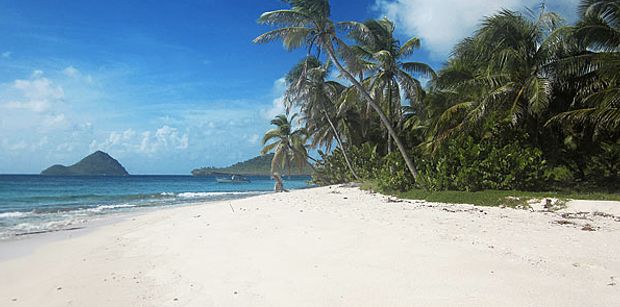 Grenada and Union Island are part of the Windward Island chain.  These beautiful islands have sheltered anchorages, stunning weather year round, high quality marinas, international air links and all the ingredients needed for a perfect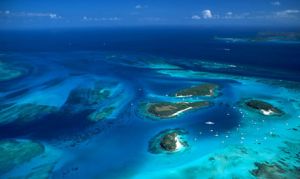 Caribbean sailing experience. Year after year, people from all over the world delight in its culture, food, wildlife, beaches, rainforest and the uniquely warm welcome. Grenada and the plethora of islands stretching northwards to St Vincent and the Grenadines are one of the most special and relatively unknown yachting destinations in the Caribbean.
You can easily spend a couple of weeks exploring Grenada's stunning beaches, magical rainforests and waterfalls and all with out leaving Grenada itself. You would undoubtedly have a fantastic holiday but you would still be missing out! Your very own private Garden of Eden awaits you to the north! There is a no more idyllic and relaxing way to spend your vacation than by exploring this chain of palm fringed islands – surrounded by coral reefs and crystal clear turquoise waters and being cooled by constant trade winds whilst on your very own yacht.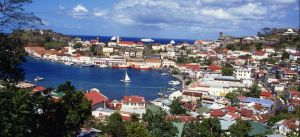 Why not head up north from Grenada towards Carriacou and The Tobago Cays  – famous for its breathtaking beauty. Here is a potential itinerary that would provide guests with a once in a life time charter!
Day 1 – Set off from True Blue Bay in south Grenada with welcoming cocktails in hand and a local and friendly skipper ready to show you the best of the Caribbean. Meander north along the west coast of Grenada, past St George – one of the prettiest capitals in the Caribbean.
Day 2 – The west coast of Grenada is edged by one long offshore reef, home to a large turtle and tropical fish population. The reef itself is marked by the 600 foot wreck of the Bianca C, the largest wreck in the Caribbean and a divers delight. You can stop off at any time for some fantastic snorkeling opportunities.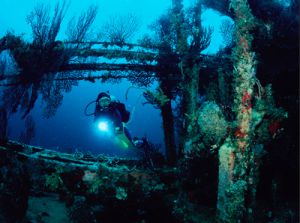 Day 3 – Reach the start of the Island chain leading north from Grenada and sample the excellent scuba diving and snorkeling of Sandy Island.
Day 4 – Wake up for an early breakfast at Sandy Island  to watch the Pelicans diving in the water around you before heading up towards Carriacou, stopping for a picnic at Ronde Island. The northerly trade winds will propel you to your destination and provide opportunities for exhilarating sailing for all standards.
Day 5 – Spend the day around beautiful Carriacou – its wonderful relaxing atmosphere best summed up by its 200 rum shops and 1 gas station! Perhaps even head to the second of the Sandy Islands, this one lying close to Hillsborough harbor for some more world renowned snorkeling in its crystal clear waters. It is packed with wildlife thanks to its status as a marine conservation area.
Day 6 – Head to Union for the day, the center of the Grenadines. Enjoy the brightly colored local markets, and the tiny islands made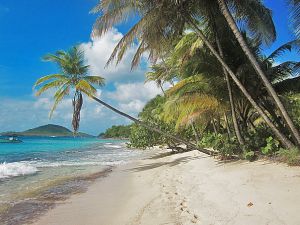 of conch shells where you can have a cocktail and sample the rum at the popular Janti's Happy Island bar. They are famous for their rum punch during a gorgeous sunset!
Day 7 & 8 – A short sail to the Tobago Cays. Enjoy this dreamy nature reserve filled with green turtles, and a wonderland of aquatic beauty. The Tobago Cays famous for its breathtaking beauty is an aquatic wonderland of uninhabited islands and crystal clear water surrounded by a horse shoe shaped reef. The colorful underwater world is perfect for snorkeling. Known as the jewel of the Caribbean, it is a nature protected reserve with diverse beauty under and above the crystalline waters. Play pirate for a day at Petite Tabac, where Pirates of the Caribbean was filmed amongst this small, enchanting and isolated island…
Day 9 – Enjoy a morning sail to the enchantingly authentic Petite S. Vincent. Soak in the warm natural shoreline pool on the tiny islet of Morpion.  The private island of Petite S. Vincent offers you the highest rated restaurant in the Grenadines for a luscious dinner.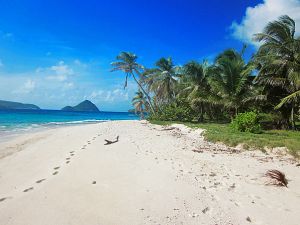 Day 10 – Enjoy a delicious breakfast in Union and last dip in the waters before giving up your home for the past 10 days and heading home with memories of a life time!
How to get there and back!
From the UK, British Airways, Virgin Atlantic continue to service Grenada weekly direct flights from London's Gatwick Airport.
From the US, American Airlines services Grenada with direct flights. Delta Air also provides non-stop flights from John F. Kennedy International Airport in New York to Grenada.
Guests can also fly to and from Union Islands' airport via changes at either St Lucia or Barbados.
If you are interested in chartering around Grenada and the Windward Islands click here to fins out more! At www.boatbookings.com, we are here to help you plan your perfect luxury yachting holiday. We have a team of highly skilled professionals who are extremely knowledgeable in their destinations and will be able to help you bring together the yacht, the crew and the destination to make sure you have the best possible charter! Keep checking our Facebook page and follow us on Twitter and Google Plus  for all the latest industry show releases, news and gossip in the yachting world.