Chartering a Jetboat on the River Thames!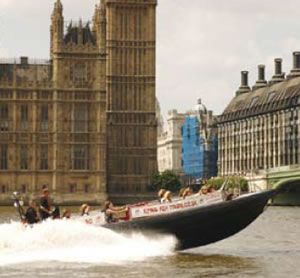 There is nothing quite like the thrill of roaring up the Thames in a jetboat- or to be precise, on board a Royal Marines assault craft. And now, thanks to Boatbookings.com, it's easy.
This jetboat experience is totally unique and unlike anything else available on the water of London, and provides an opportunity to see the city from an entirely different viewpoint... from the River Thames, icons such as Big Ben, the Houses of Parliament, the Tower of London, and so on, take on a timeless and enthralling aspect.
The itinerary is a circular tour that starts from Cadogan Pier, Chelsea Embankment, to Canary Wharf and beyond (time permitting). From the river, you can relate to Henry VIII, Samuel Pepys, Sir Thomas Moore and numerous others - all of whom used this ancient water highway, which has hardly changed since their day.
I've read enough - Book this boat!
Break the routine
If you - like thousands of Londoners - are desperate for a break in routine, tired of staring at your computer screen, longing for a blast of fresh air in your lungs, and hankering for a surge of endorphins, now you don't have to venture far, or for long, to experience an exhilirating ride up the river that is guaranteed to blast the cobwebs well and truly away.
Even if you can only spare an hour or so, grab a group of friends and colleagues, wrap up warm - and get out on it!
Where and How
We invite you to charter the Flying Marlin - a boat of incredible firepower and impressive manoeuvrability - for your jetboat tour of the Thames. Along with up to 19 friends or colleagues, you'll embark at Chelsea Embankment's Cadogan Pier (unless you wish to arrange to embark at an alternative starting point).
You'll be provided with waterproof overalls and a lifejacket (which easily fit over your work clothes), and given a full safety briefing before you take off.
Away from the crowds on this calmer patch of the river, you'll experience the invigorating thrills as the boat is put through its paces; then you'll speed on to take in the scenic views downriver.
Your charter tour will take you from Albert Bridge to Canary Wharf, even as far as the Thames Barrier (designed to protect London from flooding and once described as the Eighth Wonder of the World) - then back again.
Times and Rates
Tours can be booked anytime midweek for private charters, or during the weekend Saturday 11:00, 13:00, 15:00, and Sunday at 12 noon for individuals and smaller groups on a budget. This boat is priced at £495 per hour for groups of up to 20 for the entire vessel.
Or for individuals and smaller groups on a budget during the weekend: Adult £26, Child (up to 12) £16.
More About The Flying Marlin
The Royal Marines are the amphibious commando force of the Royal Navy, and they use these vessels to 'fast transit commandoes from over the horizon onto a beach"; but no longer do you have to be a Naval Officer to enjoy this watercraft at its best!
Based on the Royal Marines Offshore Raiding Craft (how cool is that?!) - the Flying Marlin is an extraordinary vessel - a '20 seater, twin inboard diesel Rolls Royce jet powered aluminium offshore craft" which hurtles down the river, skimming over debris and hurtling beneath London's magnificent bridges.
The 9 metre long vessel was designed for 'commando insertion/extraction and fire support missions along coastlines and river networks". It has an aluminium hull with a low enough draft to allow for safe, rapid 'beach insertions" - i.e. if need be it can be driven straight from the water onto a beach! (Not that there are any beaches in London suitable for that particular purpose…)
With the ability to go from 0-30 knots in 11 seconds combined with its top speed of over 40 knots, you will definitely get your thrills from the massive rush of adrenaline released as you virtually fly across the water.
In patches of the river where speeding is prohibited (due to wash disturbing houseboats/to respect the Metropolitan Water Police/to avoid extra large chunks of treacherous floating garbage such as homeless railway sleepers), your friendly guide is on hand to point out monuments of interest, telling tales and sharing historic anecdotes about the various buildings perched along the mighty river.
The tour is certainly the fastest and most exciting way to get from one end of historic London town to the other.
The charter tour can be bespoke to your exact requirements, starting and finishing from any number of piers in central London, whilst the scheduled trip at the weekend takes you from Chelsea, past Lambeth, down past Millennium Bridge, toTower Bridge, passing many fascinating London iconic landmarks en route including:
MOD Building
Royal Air Force Memorial
The London Eye
Charing Cross Station
Cleopatra's Needle
Waterloo Bridge
Temple Archway and Stairs
Q ships
OXO Tower
Blackfriars Bridge & Blackfriars Railway Bridge
St Paul's Cathedral
Millennium Bridge
Shakespeare's Globe Theatre
Tower Bridge and its infamous (and chilling) Traitors Gate
It is fascinating and awe-inspiring to wonder at the many moods of the river, from the wild twisting currents beyond Tower Bridge, to the calm serenity of the water as you return back upstream to Lambeth and Chelsea.
The owners of the boat are both ex Scotland yard senior detectives, who through their 30 years in the force gained the necessary contacts to acquire this outstanding boat, (which was hull No 15 of only 47 made).
On your return you will find your mind has cleared, your mood has lifted, and you have a ravenous appetite for some piping hot soup and a glass of red wine at any of the numerous local restaurants in and around Chelsea and along the Kings Road.
Our Other Charter Yachts - London, UK and Worldwide
Boatbookings has plenty of boats to cruise the Thames, or anywhere else you'd like to go for that matter. We can find you the ideal charter yacht, be it Super or Mega Yacht, crewed, sail, motor or catamaran. Click here to see our UK Charter Yachts or simply contact us and we'll recommend the best boat for you.
See our London charter Yachts Contact us for a full Proposal
Other Articles of Interest
Charter destinations