Social Distancing Yacht Charter
Social Distancing Charter - Why Yachts are the Perfect Holiday Option During the Pandemic
You've heard far more about social distancing than you would have liked since the Coronavirus pandemic hit. The foundation of social distancing is dramatically reducing personal interactions that could potentially lead to infection. This has largely meant limiting your interactions to your family and a small set of contacts that you know are not infected. In this context, yacht charters are the definition of social distancing and safe-conduct during a pandemic! 
This article discusses how to spend a safe, socially distanced holiday vacation and still enjoy all of the benefits of a yacht charter. You may also want to see our Charter Planning during the Coronavirus Pandemic page that has updated information on global yachting destination openings.
We will be requesting that the industry recognised COVID special conditions are added to your agreement which stem from the Hurricane Addendum. If in the event that there are government restrictions or a travel ban which prevent you from taking delivery of your yachts, then all parties will re-schedule the charter period to a mutually agreed time within the next year. It's working very well to ensure that your funds and sailing vacation are protected.
---
Yachts offer all of the amazing activities you want on your holiday, with social distance built-in!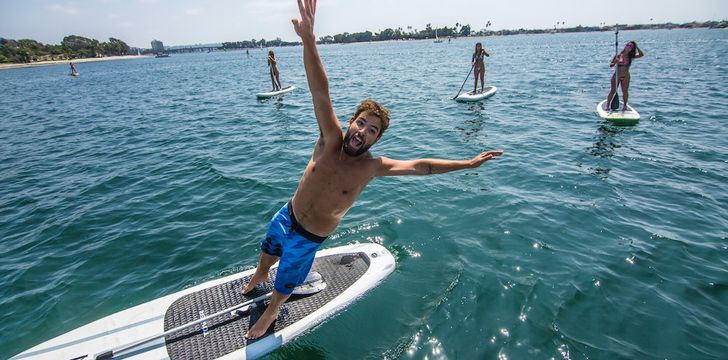 Yachts offer holidays with social distancing "built-in" that other holidays such as hotels, resorts, and cruises cannot. Because everything you need for full enjoyment is private and comes along with you wherever you go, you can spend your holiday vacation fully enjoying all of the regular activities without impacting your enjoyment at all!
You have endless water sports just for you, and staff to make sure you get the most out of it. You can hike and explore "off the beaten track" islands with no one else around. You have your very own private chef and private dining experience catering to your specific tastes with a different backdrop every day. Sunset cruises and day parties with your friends are built-in and you will never need to rush to the perfect spot - you'll be there already. 
---
Key aspects of safe yacht chartering using social distancing principles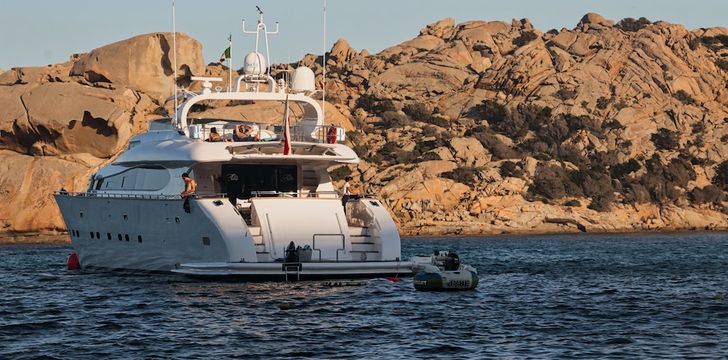 A social distancing charter is not just about the yacht and crew. You also need to get to the yacht and get home safely. Please see our guide to all the steps of a social distance charter below.
General Social Distancing boating guidelines
Health officials agree that the coronavirus has a much harder time spreading when outdoors or in well-ventilated areas. The more time you spend on deck will significantly reduce your chances of being exposed to Coronavirus while on your charter.
Shore/port visits. Visits to secluded beaches and unpopulated islands provide almost zero risks for infection. For any other visits to restaurants, bars, shops or tourist attractions, you should adhere to social distancing rules (masks, handwashing, distancing) and stay outdoors if at all possible (outside dining, etc.). If you have any concerns, we recommend that you avoid these places and keep your exposure to a minimum.
When in public, wear a mask, wear a mask, wear a mask! If there's anything the world has learned during the pandemic, it's that wearing a mask is the responsible thing to do. It is the responsible thing to do and helps protect the wonderful people who live in the glorious destinations you're traveling to.
Getting to and from your charter safely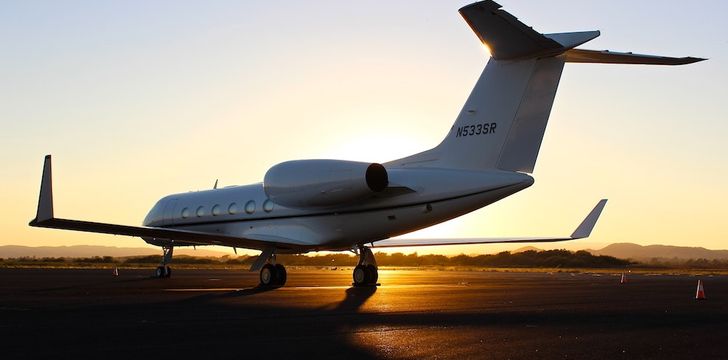 The largest exposure you have to multiple contacts is traveling to and from your departure port. If you have the means, we highly recommend chartering private jets, where your contacts are controlled and minimized. Alternatives to private jets are driving yourselves (if feasible) or booking flights on carriers that keep the middle seats empty and passenger density down. The most common advice from health experts, who agree that the risk of infection on flights is low, is to make sure there is space between you and people you do not know. To increase safety, airlines and airports have enacted many new procedures to reduce contacts and that modern airplanes have filters that remove most viruses. 
For transfers to your yacht, we recommend private cars that are recommended by the crew or boat operator, as opposed to taxis or rideshare services. Sit in the back seat, not the front near the driver. Wear a mask and ask your driver to wear a mask. No matter what form of travel you choose, wash your hands frequently and do not touch your face. If you are sitting next to anyone who seems sick, ask to be moved.
Social Distancing on your bareboat charter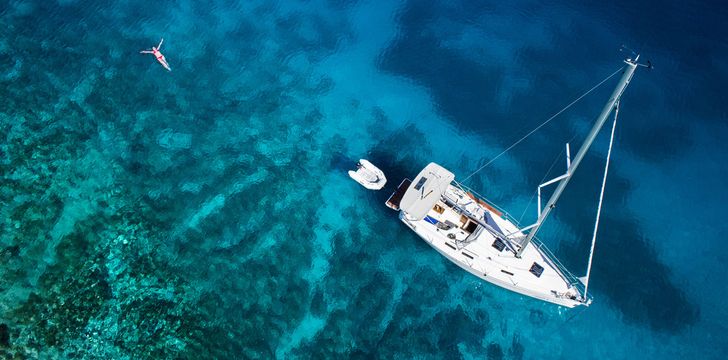 If you are bareboating, the second you shove off you will be alone with your party, so the need for social distancing is minimal when under sail. Your boat will have been thoroughly cleaned and disinfected by your operator. No need for masks, excess hand washing, or minding a 6 foot/2 meter distance from each other - which is obviously nearly impossible on a bareboat anyway. While you're at sea, you can literally forget about the pandemic and enjoy your friends, family, and the amazing region you're chartering in (note, this assumes that your party has had close contact with each other prior to the charter so the risk for cross-contamination is low).
You will, however, need to practice social distancing when in port for provisioning, attending beach bars, or restaurants. We recommend you keep these stops to a minimum, and when you do, stay outside at beach bars and restaurants and don't attend them if they are crowded. Cook onboard whenever possible instead of heading to a restaurant onshore, or order ahead and pick the food up and eat it on your boat. Also, a bit more planning for your provisioning may reduce unnecessary stops along the way because you ran out of sugar or an onion. 
See our bareboat charter guide for further information.
Social distancing on your crewed yacht charter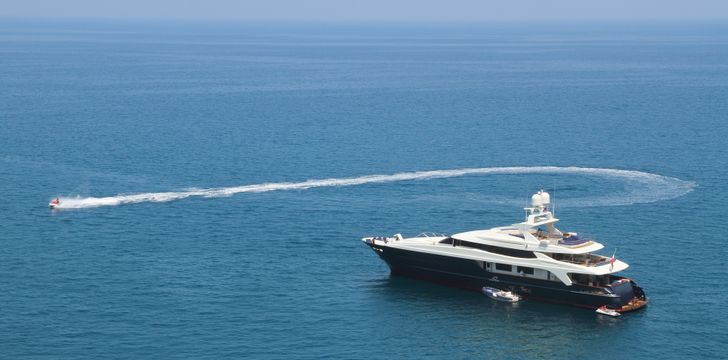 On a crewed charter, once onboard you will only come in contact with the crew who are well versed in safety and social distancing. We recommend you have a discussion with the crew about safety and social distancing prior to embarking on the charter. There are various social distancing practices you can use, such as keeping 6 feet distance whenever possible and requiring that the crew wear masks during interactions such as serving meals. 
Adjusting your itinerary
Small changes in your itinerary can make a big difference, both to your party and to the local residents. Here are a few suggestions:
Spend more time on your yacht, and less time ashore. And when you're ashore, avoid contact with others whenever possible, and wear a mask.
Avoid small towns. A COVID-19 outbreak in a small community could decimate their health system. Avoid contact where possible with locals in small towns.
Spend more time in nature. Virtually all charter itineraries provide access to unparalleled natural beauty. Consider spending more time in secluded ports, and less at crowded beaches and ports.
See our crewed yacht charter guide for further information.
---
Yachts and Social Distancing in 2022 and beyond
The world changed in 2020 and everyone is learning how to live their lives safely and to the best degree. Yacht charters provide safety without reducing your enjoyment or constricting your plans. They are ideal for today's world. So get in touch and let us organise your vacations, closer to home for yacht charters in 2022.
Contact us!
We welcome you to contact us to discuss your needs and how a yacht charter can be safer and more socially distanced than any other form of holiday vacation. Just fill out the form below and we'll be in touch straight away to help you plan your social distanced and amazing charter!
Charter destinations