Lagoon 450 Catamaran Review and Specifications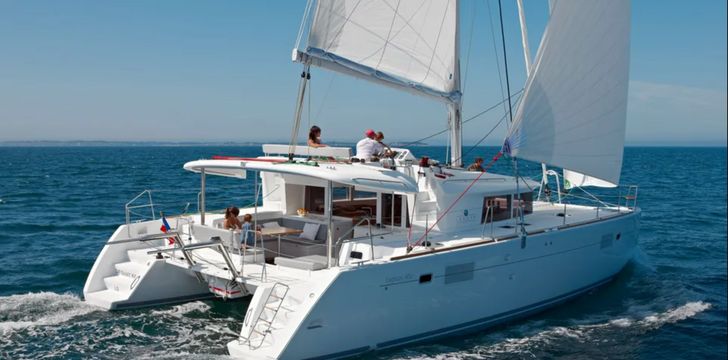 The Lagoon 450 is a superb charter catamaran. It is large enough to provide ample deck, salon, and cabin space, but small enough for an experienced captain to handle her. She carries a family of up to 4 couples in style and provides all the amenities of the 50 foot plus charter catamarans.
The Lagoon 450 succeeded the venerable Lagoon 440.
---
Lagoon 450 Salon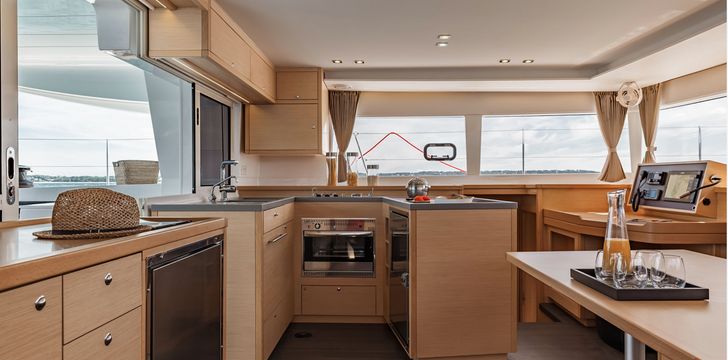 The Lagoon 450 Salon is large, convenient, light, and airy. You have plenty of food preparation space and a galley that will support everything needed by even gourmet cooks. On indoor days, there is plenty of room for the family to congregate, eat, play cards, and relax. Views through the large vertical windows are amazing in all 360 degrees.
---
Lagoon 450 Cabins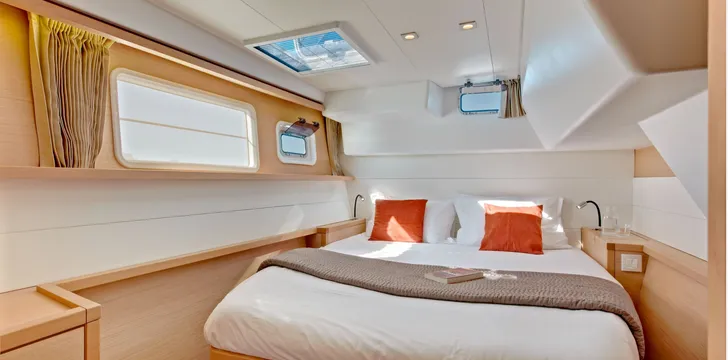 The Lagoon 450 offers modern, clean, comfortable cabins. Excellent lighting, en-suite bathrooms, individual lighting, privacy, and lots of storage make your stay onboard a true luxury vacation.
---
Lagoon 450 Layout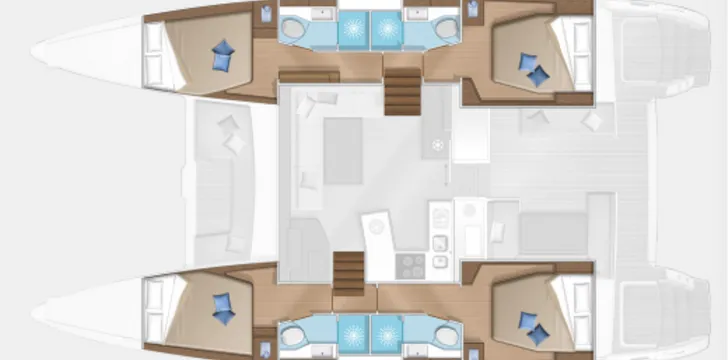 This is the Lagoon 450 4 cabin layout. Notice the ensuite bathrooms for each cabin, the large saloon, the front deck with trampolines, and the extensive aft deck where you will have most of your meals. Plenty of room, and plenty of privacy!
Note. Pictures and layouts courtesy of Lagoon Yachts.
---
Lagoon 450 Specifications

- Length over all (LOA): 13.96 m / 45'10''
- Beam: 7.87 m / 25'10''
- Draft: 1.30 m / 4'3''
- Sail area: 129 m² / 1,388 sq.ft.
- Full-batten mainsail: 79 m² / 850 sq.ft.
- Square top mainsail (on some models): 81 m² / 872 sq.ft.
- Diesel Engine 2 x 45 HP
- Fuel capacity 2 x 520 l / 2 x 137 US gal.
- Cabins: 4
- Berths: 8
- Bathrooms: 4


---
Boatbookings Curated Offering of Lagoon 450s for Charter