Yacht Charter in Antalya
Articles about Chartering in Antalya
Boatbookings.com has the following content related to your search query.

Antalya, Turkey Yacht Charter Overview
Antalya, Turkey's principal holiday resort in the Mediterranean region, ancient Pamphylia, is known as the 'Turkish Riviera' due to its gorgeous setting, as well as countless historic, archaeological and natural attrac...
[Read on]
Antalya Charter Yachts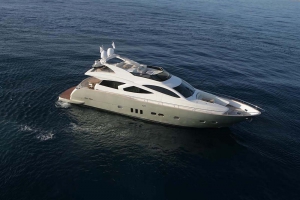 BLUE ANGEL - Fillippetti 23m - 4 Cabins - Rhodes - Simi - Bodrum
Built in 2007 and refitted in 2016, BLUE ANGEL is now a delightfully modern and stunningly stylish yacht, fantastic for chartering in Greece and Turkey
BLUE HEAVEN - Gulet 98 - 5 Cabins - Bodrum - Kos - Rhodes
BLUE HEAVEN is a Gulet 98, she cruises around Turkey and Greece. She can accommodate 9 guests in her 5 spacious cabins.
LARA - 4 Cabins - Tivat - Montenegro - Dubrovnik - Turkey
To be done
ALUMERCIA - Heesen 123 - 5 Cabins - Bodrum - Marmaris - Gocek
ALUMERCIA is a Heesen 123, available around Turkey and Greece! She accommodates 12 guests, who will be looked after by her charming crew of 7.
CLARISSA - 4 Cabins - Antalya - Gocek - Bodrum
CLARISSA is a wonderfully luxurious 30m sailboat, which can accommodate up to 8 people, with 4 comfortable bedrooms. She has a crew of 4, who will be on board to cater for your wishes.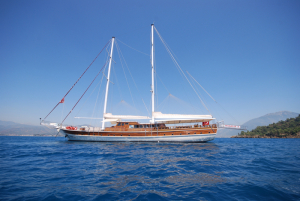 HOLIDAY X - 39m Gulet - 10 Cabins - Turkey - Fethiye - Bodrum
HOLIDAY X is a superb 39m Gulet accommodating up to 22 guests in 10 cabins for charter along the Turkish coastline.
KAYA GUNERI V - 39m Gulet - 6 Cabins - Bodrum - Gocek - Marmaris
KAYA GUNERI V is a 39m Gulet based in Bodrum, Turkey. She has 6 cabins that can accommodate up to 12 guests along with 6 crew members on board.
CAKIRYILDIZ - 43m Gulet - 5 Cabins - Bodum - Rhodes - Kos
CAKIRYILDIZ is a stunning 43m Gulet, she charters around Turkey and the Greek islands. She can accommodate 10 guests in her 5 generous cabins, you will be assisted by 7 professional crew.

HALCON DEL MAR - 45m Gulet - 8 Cabins - Athens - Mykonos - Bodrum - Gocek - Turkey
HALCON DEL MAR is a classic 45m Gulet available for charter throughout Turkey.
Winnie
This Lagoon 400 sailing catamaran is a crewed charter yacht in Fethiye, Marmaris and Bodrum accommodating 8 guests. This charter yacht is great for a sailing cruise around Turkey.
KENTAVROS II - Ferretti 24 - 4 Cabins - Athens - Mykonos - Dubrovnik - Bodrum
Motor Yacht KENTAVROS II is a 24,3m (78.8ft) yacht built by world renowned Ferretti in 2000 and refitted in 2012. The interior designer's use of medium toned woods with light crisp furnishing and natural light create a comfortable yet sophisticated ambian
BARRACUDA RED SEA - 37m Sunseeker - 6 Cabins - Bodrum - Marmaris
This great 37m Sunseeker luxury motor yacht, BARRACUDA RED SEA, is ideal for your next luxury crewed charter around Turkey, accommodating up to 12 guests in 6 cabins.

MARAYA - CRN Ancona 54m - 6 Cabins - French Riviera - Monaco - Sardinia - Athens - Marmaris
Luxurious MARAYA offers more than 450m2 of external space with 5 separate deck areas, perfect for relaxing, unwinding or entertaining.
CARPE DIEM I - Etemoglu 30m - 4 Cabins - Bodrum - Gocek - Marmaris
CARPE DIEM is a stunning 30m gulet from Etemoglu. She accommodates up to 8 guests in 4 cabins and is available for charter in Turkey.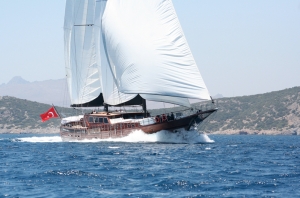 PRINCESS KARIA II - Sevil 34m Gulet - 6 Cabins - Gocek - Antalya - Bodrum
PRINCESS KARIA II is a luxurious 34m Sevil Gulet with accommodation for up to 12 guests in 6 spacious cabins. She has a great crew of 5 who will take pride in offering you the very best service onboard.

DRAGONFLY - Gulet 127 - 5 Cabins - Bodrum - Gocek - Antalya
DRAGONFLY is a traditional Gulet 127 Crewed Sailing Yacht available for charter throughout the East Med, based out of Bodrum, Turkey.

CARPE DIEM V - 47m Gulet - 6 Cabins - Bodrum - Gocek
CARPE DIEM V is a stunning 47m Crewed Gulet available for charter out of Bodrum, and throughout the East Med including the beautiful Cyclades!

CARPE DIEM IV - 47m Gulet - 6 Cabins - Bodrum - Gocek - Antalya
CARPE DIEM IV is a stunning 47m Crewed Gulet available for charter throughout the East Med
Back to Yacht Charter in Turkey, Yacht Charter in Aegean Sea - Turkey, Yacht Charter in Mediterranean Sea