Yacht Charter in Alghero
Articles about Chartering in Alghero
Boatbookings.com has the following content related to your search query.

Alghero, Sardinia Charter Yachts
Alghero is situated on the north-west coast of Sardinia and is a real treasure with a strong Catalonian influence. It underwent Spanish colonisation for a lengthy period of time which left its mark on the local langu...
[Read on]
Alghero Charter Yachts

ELEVEN - Ferretti 55 - 3 Cabins - Italy - Sardinia - Porto Cervo - Cagliari - Cannigione
This Ferretti 55 crewed motor yacht, accommodating up to 6 guests in 3 cabins, is ideal for cruising the stunning Sardinia Coast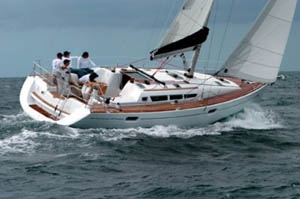 Sun Odyssey 42i - 3 Cabins - Portisco
The ultra-comfortable new Sun Odyssey 42i is designed in true maritime tradition.
Jeanneau 53 - 4 Cabins - Alghero - Sardinia
This Jeanneau 53 is a beautifully crafted sailing yacht, ideal for charters in Northeastern Sardinia.
HALLOWEEN - Bermudan Cutter - 2 Cabins - French Riviera - Italian Riviera - Sardinia - Corsica - Barcelona - Majorca - Mahon - Monaco
This Bermudan Cutter classic sailing yacht, HALLOWE'EN, is perfect for regattas such as the Voiles de Saint Tropez and Régates Royales de Cannes, and special events around the Mediterranean, for up to 4 overnight guests and/or 12 day charter guests.
ALISSA - 23m Gulet - 5 Cabins - Alghero - Cannigione - Sardinia
ALISSA is a 23m classic Turkish Gulet. She is elegant, spacious, comfortable and fully air-conditioned and accommodates up to 11 guests in 5 en-suite cabins.
Lagoon 421 - 4 + 1 Cabins - Alghero - Sardinia
This Lagoon 421 crewed catamaran, accommodating up to 9 guests in 4 double cabins + 1 single cabin, is ideal for sailing vacations and holidays around Sardinia.

MARAYA - CRN Ancona 54m - 6 Cabins - French Riviera - Monaco - Sardinia - Athens - Marmaris
Luxurious MARAYA offers more than 450m2 of external space with 5 separate deck areas, perfect for relaxing, unwinding or entertaining.

REE - 115ft Valdettaro - 5 Cabins - Caribbean - Italy - French Riviera - Monaco - Turkey - Croatia
This 115ft Valdettaro luxury sailing yacht, REE, accommodating up to 10 guest in 5 cabins, is ideal for sailing charters around the Caribbean, Naples, Sicily, the French Riviera, Monaco, Corsica, Sardinia, Turkey, and Croatia.
Back to Yacht Charter in Italy, Yacht Charter in Sardinia, Yacht Charter in Mediterranean Sea