Yacht Charter in Andratx
Articles about Chartering in Andratx
Boatbookings.com has the following content related to your search query.

Mallorca Yacht Charter | Puerto Andratx
Located 28 km away from Palma, this charming port town is surrounded by pines and almond trees, under the shade of Galatos Peak. Surrounded by beautiful villas with pools, Andratx is rightly considered one of the mo...
[Read on]
Andratx Charter Yachts
HOOLIGAN - Sunseeker Predator 82 - 4 Cabins - Palma - Mallorca - Ibiza Port - Formentera
Built in 2007 and expertly maintained by her owners, 'Hooligan of Cowes' has sleek lines and can accommodate up to 8 guests in 4 cabins. She is available for charter out of Mallorca and around the beautiful Balearics.
Bavaria Cruiser 37 - 3 Cabins - Palma de Mallorca
This Bavaria 37 Cruiser is a stunning new yacht available for charter in Mallorca. She accommodates up to 6 guests in 3 contemporary and comfortable cabins.
SAMSARA - Turkish Gulet - 4 Cabins - Andraxt - Mallorca
SAMSARA is a Turkish Gulet, hand-crafted from wood. She exhibits the classic beauty of these traditional sail and motor yachts. With a cushioned deck for sunbathing and a large shaded seating and dining area aft, Samsara's size and space are ideall
Lagoon 380 - 4 cabins - 2016 - Palma de Mallorca
With space for 10 guests on board, the Lagoon 380, new for 2016, is comfortable, stylish and modern.
SMILE - Bali 4.5 - 4 Cabins - Ibiza - Mallorca - Barcelona
SMILE is a sleek Bali 4.5 Sailing Catamaran available for charter in Ibiza, Mallorca and in Barcelona.
MIO BARCO - Princess 64 - 4 cabins - Mallorca
MIO BARCO is a modern, luxurious Princess 64, available for day or weekly charters in the Balearic Islands
TIZIANA - Abeking & Rasmussen 116 - 5 Cabins - Spain - Ibiza - Andratx
This superb looking Abeking & Rasmussen 116 crewed motor sailer, TIZIANA, accommodating 10 guests in 5 cabins, is perfect for exploring the Balearics in true maritime style!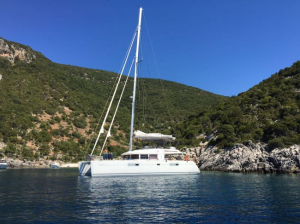 BIG GANI - Lagoon 560 - 4 Cabins - Ibiza - Formentera - Palma - Barcelona
BIG GANI is an elegant Lagoon 560 Crewed Catamaran available for charter throughout the Balearic Islands and along the Spanish Coast.
CALMAO - Sunreef 74 - 4 Cabins - Nassau - Staniel Cay - Palma de Mallorca - Ibiza
CALMAO is a Sunreef 74 that emits an air of subtle class and well-appointed opulence. Generously spaced, this Luxurious Catamaran is ideal for families or friends.
KINGS RANSOM - Matrix Silhouette 76 - 5 Cabins - Palma de Mallorca - Ibiza - Tortola - BVI
This modern yet elegant Matrix Silhouette 76 luxury crewed catamaran, KING`S RANSOM, accommodates up to 10 guests in 5 cabins.
Back to Yacht Charter in Spain, Yacht Charter in Mallorca, Yacht Charter in Mediterranean Sea